Services for Distance students
Services for Distance students
Students who live 50 km or more from an NMIT campus and all online students (even if they live within the 50 km radius of campuses) are eligible. Students who are unable to visit the Library Learning Centre or have barriers to access are also considered at the discretion of the library manager.
Our lending service
If you are unable to find what you need via eBooks or other online resources (see the full range of resources as the bottom of this page) you may wish to request an item be sent to you from our Library collection.
You may borrow up to 15 main collection items and two three day loan items at once
You may borrow items from our main collection for 3 weeks with two 3 week renewal
You may borrow items from our 3 Day loan collection for 9 days (6 days for postage), with two 3 day renewal available
We post to you and provide a courier bag for return to the Library
You may renew items once – by phone: 03 539 5068; by email: library@nmit.ac.nz, or by signing into the Library Catalogue(external link)
We will send your requested items within 1-2 working days
We can copy and send journal articles or book chapters on request.
If you are studying with us from outside New Zealand, we unfortunately can't send books overseas. We are happy to give advice on, and help you access online resources.
Note - you may not borrow
If you have any overdue items
Material not related to your studies
If you live overseas
---
To request a book or journal

Sign-in to the Library catalogue(external link)
Search for the title you want
Select it and then click the 'Request' button
Click 'Save' when prompted
The 'Request' button will either look like this in a search result list:

OR like this in the full record:
Click the 'Save' button to the far right of the window to finally request the item.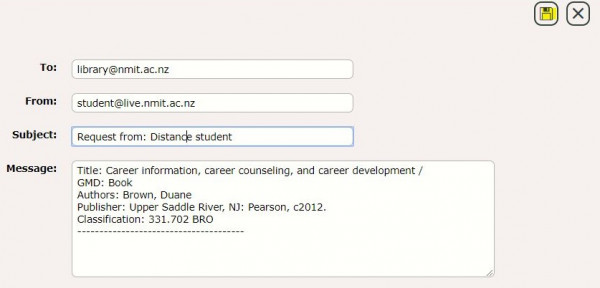 We aim to dispatch your items within 1-2 working days and will let you know when this has been actioned.

If you have any issues with the above process, please get in touch so we can assist you: library@nmit.ac.nz or ph: 03 539 5068 or 0800 422 733
You can sign up for distance service by completing the register for distance form(external link).
---
Use the library website to access:
Learning Support
We can offer individual learning Support sessions via Skype to help you with your assignments: planning your study, academic reading/writing, finding the best resources etc. For more assistance contact Learning Support Help to discuss your specific needs, ph: 03 5395068 , or email library@nmit.ac.nz
You can request Learning and Wellbeing support appointments here.(external link)